Most school board candidates reach out to family and friends to help start their campaign. Creating these letters from scratch can be time-consuming. Most letter templates you'll find online are generic and not geared specifically for local political campaigns.
The sample fundraising letter below starts with a candidate introduction, followed by specific issues and suggestions for solving those issues. Then comes an intent to run, and a request for support along with a specific, time-sensitive contribution request. It's wrapped up with a thank-you and reminder about the campaign website where supporters can find out more information and how they can help.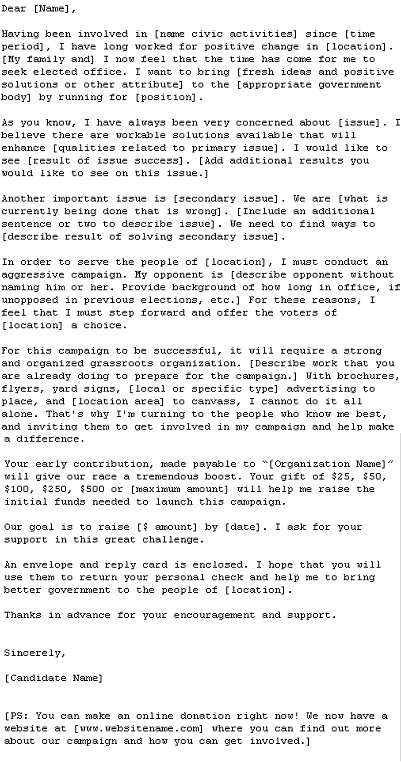 Campaign Letter Template Package
These templates can be adapted for your school board campaign letters. They will give you a head start in creating solid campaign correspondence that will get your message across in a professional manner. With these letter templates, you can create:
Well-written fundraising appeals that brings in donations.
Endorsement requests that help capture you in the best light.
Press releases that the local media will be happy to print.
The package includes:
Political Donation Thank You Letter – Event Related
Political Donation Thank You Letter – General
Endorsement Letter To the Editor Samples
Endorsement Request
Fundraising Appeal to Close Family and Friends
Fundraising Appeal to Friends and Acquaintances
Fundraising Appeal – After Primary
Fundrasing Appeal – On Behalf of Candidate
Fundraising Appeal – Acknowledging Tough Times
Fundraising Appeal – Followup
Fundraising Appeal – Final Push
Personal Invitation Letter
Press Release – Entry into Race
Press Release – Website Announcement
Press Release – Endorsement
Press Release – Campaign Event
Press Release – Position Statement
Press Release – Post Fundraiser Event
Press Release – Political Apology
Press Release – Post Election
Thank You Letter For Event Speaker
Volunteer Followup Letter
Volunteer Thank You Letter
Campaign Writing Tips
Local Press Release Resources
Additional Resources
Don't recreate the wheel. Use these templates to add a professional edge to your school board campaign correspondence. Download yours today!
You may be interested in: Tips for Creating a Great Campaign Brochure